After the deliberations of the independent jury, the list of winning innovations for the 4th edition of the PackTheFuture Award 2018 is closed. The contest promotes the creative and innovative potential of the plastic and flexible packaging sector and has become a European reference in the packaging sector. It is organized in cooperation by the two professional associations: ELIPSO, the French Plastic and Flexible Packaging Association, and IK, the German Plastics Packaging Association.
Among the 48 files submitted this year, 30 files were first selected by the pre-jury composed of technical experts and packaging specialists who met on June 12 in Paris.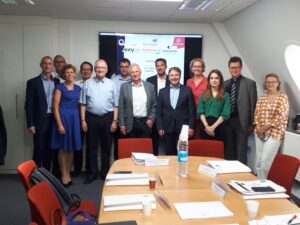 The Main Jury, made up of consultants, journalists, scientists, professors, and packaging experts, deliberated on June 27 to pick the winners in each category:
Eco Design
Product Protection
Social Benefit
Save Food
"We would like to thank all participants for their support of the PackTheFuture Award 2018. With their versatile innovations, they reflect the growing importance of sustainable packaging for the plastic packaging sector in Europe. The high number of entries in the category Eco Design underlines the increasing consideration of the circular economy", comments the Chairman of the jury, Professor Horst-Christian Langowski of the Fraunhofer Institute for Process Engineering and Packaging in Freising.
The winners of this edition will be disclosed on November 27 at the PackTheFuture Award ceremony at the ALL4PACK trade fair in Paris, of which ELIPSO and IK are official partners this year. The press, partners, sponsors, winners and members of ELIPSO and IK, and members of the jury will be invited to this event.
The World Packaging Organization (WPO) has recognized the PackTheFuture Award as a qualifying contest for the WorldStar Award: the largest packaging competition worldwide. The winners of this edition 2018 will be qualified to participate in the 2019 edition of the Worldstar Awards.
About the PackTheFuture Award:
Established in 2014 the PackTheFuture Award is based on an initiative of ELIPSO ‐ The French Plastic and Flexible Packaging Association and IK Industrievereinigung Kunststoffverpackungen e.V. – The German Plastics Packaging Association. The packaging award focuses on promoting to the public the innovative and creative potential of all kinds of plastic packaging. It offers an ideal opportunity for ELIPSO and IK members to advertise the sustainability of their own plastic packaging products.
PackTheFuture Award is sponsored by:
INTERSEROH Dienstleistungs GmbH  
and with our partner:
---
More information on our website: www.packthefuture.com
ELIPSO is the trade organisation that represents plastic and flexible packaging manufacturers in France. The plastic and flexible packaging industries employ 38,000 employees in 320 companies for annual turnover of €7.7 billion. These industries are active in every sector of industry and distribution (food & agriculture, beauty & health, personal care, cleaning, chemicals, industrial products, construction transport and logistics).
Contact: Christophe Morvan – Phone +33 1 46 22 02 27, c.morvan@elipso.org