Industry engage in dialogue – global, European, local

When the world's leading plastics trade fair K 2019 opens its doors, the Special Show in Hall 6 will once again be a central meeting point for trade fair visitors. The project by the German plastics industry, led by PlasticsEurope Deutschland and Messe Düsseldorf, is a central forum for the exchange of information, ideas and opinions, attracting both professional visitors and general audience.
The focus is on strong innovations in polymers and the industry with regard to saving resources, digitisation, functionality, renewable energies, recycling and sustainability. Critical plastics issues such as the problem of marine litter, the throwaway mentality on plastics packaging and the use of limited resources for production will also be addressed.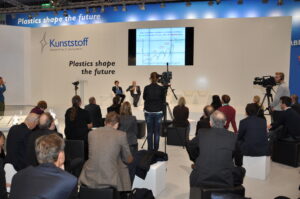 At the core of the Special Show are theme days with lectures, keynote talks and panel discussions, partly in German, partly in English. From Wednesday to Tuesday, experts from science, industry, politics, public authorities and non-governmental organisations will provide information and discuss economic, social and ecological challenges and possible solutions. The circle of participants is as international as the trade fair audience, ranging from a CEO from a global operating company, who advocates a worldwide initiative to avoid plastics waste in the environment, to a national NGO, which informs about awareness-raising actions by means of CleanUp events and other local measures. The Special Show thus provides global, European, regional and local answers to social megatrends currently moving people.
Plastics shape the future
For the 10th time, the K Special Show in Hall 6/C40 complements the extensive Düsseldorf trade fair and, as in 2016, its motto is Plastics shape the future. During the fair, young researchers from FabLab Lübeck e.V. will be offering a glimpse into the future of robotics and AI. At an own stand space, they will be demonstrating where additive manufacturing, robotics and modern materials such as plastics are heading, presenting every day their current work on a human robot. The chemist and entertainer Dr Gerhard Heywang is also a key part of the show: With his exciting experiments on plastics, which he presents in German or English as required, he will certainly astonish and amaze the fair visitors. The Special Show at Golden Sunday will spread sporting splendour: several Olympic canoe champions as well as world championship and European championship winners from Team Kunststoff, the sponsoring initiative of the plastics manufacturers in Germany, will be honoured at K, answering questions and posing for souvenir photos.
Selected content highlights of the K 2019 Special Show:
Wednesday, 16/10
Stand opening with Werner Matthias Dornscheidt, President & Chief Executive Officer of Messe Düsseldorf, Ulrich Reifenhäuser, President of K fair, Dr Michael Zobel, President of PlasticsEurope Deutschland e. V.
Key note Alliance to End Plastic Waste by Dr Markus Steilemann, CEO Covestro AG
Thursday, 17/10
Panel discussion Plastics for Sustainable Development, inter alia with representatives of the Federal Environment Agency Austria and the European Environment Agency (EEA)
Friday, 18/10
Lectures on the implementation of the Voluntary Commitment of PlasticsEurope by sustainability initiatives of the plastics manufacturing industry (Ceflex, Polyolefin Circular Economy Platform (PCEP) / petcore Europe / PlastiCircle Europe / Styrenics Circular Solutions (SCS) / VinylPlus)
Saturday, 19/10
Keynote World Plastics Council on the global issue of marine litter by Mark Nikolich,
CEO Braskem America
The detailed programme is available at http://www.plasticsshapethefuture.de/en/.