As difficult as the times may be during the coronavirus pandemic, the support available in the fight against the virus is as diverse.
Due to the major significance of chemical and plastic products for medical technology, infection control and hygiene, the chemical and plastics industries can provide direct assistance here, especially where there are currently supply bottlenecks.
Many companies in the plastics industry have provided targeted support very quickly and unbureaucratically thanks to their expertise, the relevant production facilities, a spirit of innovation and, not least, the positive properties of the materials.
You will find various examples of this involving members of IK Industrievereinigung Kunststoffverpackungen e.V. (German Association for Plastics Packaging and Films.) and PlasticsEurope Deutschland e.V. here:
Covestro
Covestro is stepping up its efforts to contain the global coronavirus pandemic with "donations in kind and monetary donations". For example, Covestro is supplying raw materials for the manufacture of products such as medical devices, protective goggles for medical staff and hospital mattresses.
In addition, the company has implemented a number of direct measures in recent weeks to provide local support for medical and care facilities.
Ergis Group
Ergis Group is supporting hospitals and other medical facilities. The Group is providing PET film free of charge to all organisations and individuals who supply face protection visors to hospitals and other critical services.
Hospitals are being supplied with transparent plasticised PVC films free of charge for the purpose of partitioning off contaminated areas.
FEURER
FEURER has developed a face visor based on the materials and production possibilities available at the company. Feurer presented its home town of Muggensturm with the first fifty plastic visors as a donation. Production of these makeshift masks has now started.
GIZEH
As a supplier of plastic food packaging, Bergneustadt-based Gizeh is showing solidarity with the doctors and nursing staff in the Gummersbach and Waldbröl district hospitals. The company is therefore donating 10,000 euros for the purchase of protective equipment.
GIZEH is currently operating three shifts, seven days a week, to meet the increased demand for its products.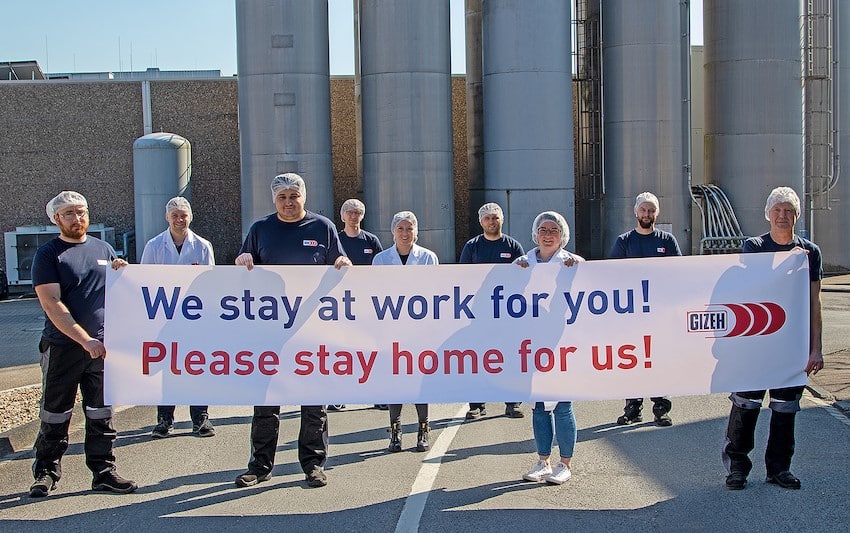 INEOS
Ineos plans to deliver a million bottles of hand disinfectant per month free of charge to hospitals throughout Germany. INEOS, one ofthe largest manufacturing companies in the world, is thus initially focusing on meeting the needs of frontline healthcare workers before pocket-sized bottles are sold to private individuals.
INEOS products are essential for the manufacture of important healthcare products – from rubber gloves to PVC infusion bags, syringes, respirators and medical tubing.
MOSCA
Mosca would like to make a contribution to general health protection in times of the COVID-19 crisis. Trainees at the mechanical engineering company are producing face masks with the help of in-house 3D printers and self-produced strapping tape. Now that the company's own needs have been met, Mosca is also supplying nearby doctors' surgeries, pharmacies, nursing homes and retail shops free of charge.
PAPSTAR
StrassenSUPPE is the name of the project that is providing homeless people in the metropolis of Hamburg with a substantial warm meal once a day and supporting PAPSTAR with a donation of disposable cups, lids and spoons.
Peku
As an urgent measure working an extra shift, PEKU has extruded extra-strong film and wound it onto rolls, which will initially be made available to domestic companies and institutions. The project is a purely support measure – there are no costs for the recipients of the film. "We do not wish to be profiteers," emphasises CEO Dr Gerd Fricke.
Perga-Plastic
Films manufacturer Perga-Plastic is supplying the Cologne city hospitals at its own expense with a highly transparent film for wrapping patients infected with the coronavirus during the incubation phase.
Pöppelmann
Family-owned plastics processors Pöppelmann is supporting the "Vechta against coronavirus" initiative. Together with two other companies from the domestic plastics industry, Pöppelmann, ATKA and MOL donate the costs of the production of the tools for components and the first 1000 face visors.
In addition, the company has developed high-quality face masks at lightning speed. Pöppelmann's "FairMasks" are intended to help fill the current enormous gap in demand. Distribution will remain in the company's own hands to ensure delivery to healthcare facilities in the region.
Polifilm
A hospital requested several rolls of protective film for isolation purposes in order to partition off beds of patients with coronavirus, especially those on ventilators, thereby protecting patients and nursing staff.
POLIFILM GmbH processed this request immediately, optimised rolls of film with tear-off perforation for easy use and delivered them to the hospital as a donation. At the same time, the film specialist also offered its support to other regional institutions belonging to the Helios clinic network.
Röhm
Röhm is taking its social responsibility seriously and is donating 2,000 respiratory masks.
Röhm GmbH also responded immediately to the sharp rise in demand for PLEXIGLAS® sheets over recent weeks – they are used in pharmacies, supermarkets and many other places and businesses with customer contact –  and expanded production at its Weiterstadt plant near Darmstadt. At the same time, extensive measures were undertaken to protect production employees from possible infection.
Schütz
The Selters-based company produced an injection mould for the manufacture of a visor holder in large quantities in its own toolmaking department in only two days. Cooperation partner Klöckner Pentaplast GmbH supplied the necessary film for the visors. In an initial relief operation, local hospitals, clinics, nursing homes and midwives were provided with thousands of facial visors free of charge within a very short time.
Metal and plastics processor Schütz GmbH & Co. KGaA is also participating in the BASF initiative"Helping Hands".
Siepe
The packaging manufacturer Siepe from Sinndorf is supporting the "fire brigade in Kerpen with donations of goods" so that staff are able to refill disinfectant for their own use as required.
Sund Holding
The Hamburg family business has decided to distribute large quantities of Bingold protective gloves free of charge to our "forgotten heroes". In addition, another company belonging to Sund Holding, Emil Deiss KG, is donating professional waste bags from its own production to ensure that used disposable materials can be disposed of safely.
Vynova Group
Following a request from the safety department at Wilhelmshaven Hospital to the QSHE department of Vynova, immediate assistance was promised for the storage of bio-ethanol on the company's premises. Bio-ethanol is needed to provide sufficient quantities of disinfectant for the hospital. A hazardous goods transport service was also organised in cooperation with Reym to take the containers to and collect them from the hospital.
In order to contribute a little extra, washing and shower containers have been provided on the company's own parking area for lorry drivers whose shower facilities at rest areas have been severely restricted.
Wentus
As a manufacturer of flexible packaging films for the food and hygiene industry, Höxter-based Wentus is aware of its responsibility. Not only has the company taken various measures to maintain production, but it has also supplied the ethanol required to make disinfectants to the Weser pharmacy in neighbouring Boffzen.
Maintaining production and supply chains
Many other companies in the sector are also aware of their responsibility as a key player in the system. And they can cope with a mammoth task simply by maintaining production in times of contact restrictions and lockdowns, kindergarten and school closures.
Many companies in the plastics industry have also expanded their production capacities or converted their production to be able to offer urgently needed plastic products in order to avoid delivery bottlenecks and secure supplies.
We would like to take this opportunity to thank the companies that are continuing to produce packaging for food and pharmaceutical products, produce seals for use in medicine or the food sector, manufacture closures for food packaging or packaging for the hygiene and cleaning agent industry and transport boxes for temperature-sensitive, medical and particularly sensitive goods or even the urgently needed film wraps adhesive seal bags and pressure seal bags for mouth protection and special glasses and face masks: allvac Folien, ALLOD Werkstoff, BERGI-PLAST, Kunststoffwerk Philippine, RUCH NOVAPLAST, Siegfried Pohl Verpackungen GmbH, Seufert, Storopack, Verpa Folie
We have already reported about other initiatives and topics related to coronavirus on a number of occasions.