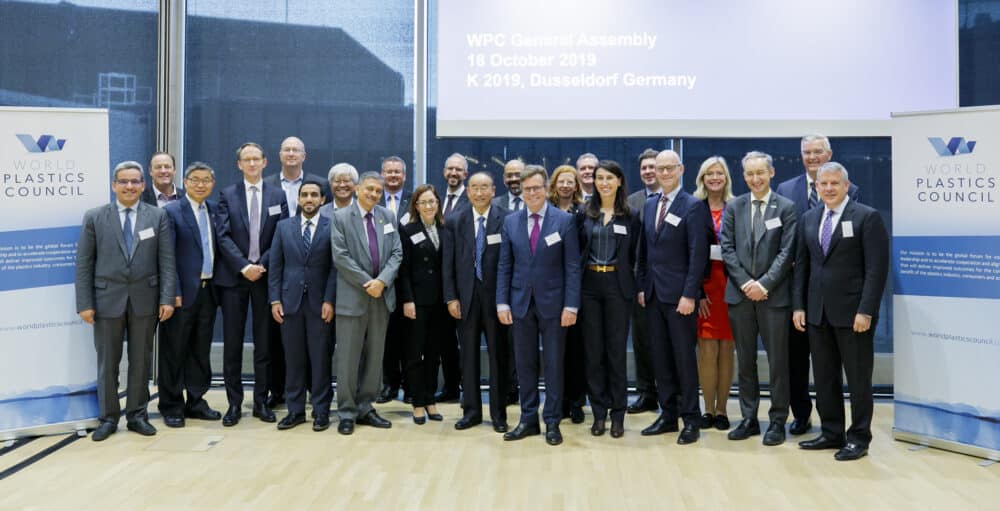 World Plastics Council – Annual General Assembly held during K 2019. Executives of leading global plastics manufacturers discussed plans to advance technologies, investments and solutions together with stakeholders across the value chain to stop plastic waste ending up in the environment.
Significant progress was reported in advancing solutions and engaging stakeholders and policy makers. Members confirmed plans for engaging in critical discussions regarding the future of plastics at the United Nations Environment Assembly, Basel Convention, G7/G20 and elsewhere. During 2019, WPC continued to expand its global footprint and welcomed two new member companies: Kolon/Korea and Tasnee/Saudi Arabia.
Li Shousheng, Chairman of China Petroleum and Chemical Industry Federation, said: "We are working to build a new circular economy for plastics, to capture them for value and to keep them out of the environment."
"The global plastics industry is rapidly coming together to develop solutions jointly together with other stakeholders.", stated Jim Seward, Senior Vice President, Research & Development, Technology & Sustainability at LyondellBasell.
About the World Plastics Council
The World Plastics Council (WPC) is an organization comprised of executives from leading companies that produce plastic resin. The WPC provides a platform for member companies to efficiently address common issues, and to have a common voice on issues with global reach. The WPC was officially established in November 2014.
The WPC is working to promote the ethic of sustainability and the responsible use of plastics; representing the global plastics industry to other stakeholders; coordinating and uniting efforts to achieve practical solutions; and sharing best practices from across various regions. The WPC does not replace current national or regional plastics associations, and it will focus its attention on issues that are global or at least multi-regional.
For further information: www.worldplasticscouncil.org
See the interesting programme of the K-Tradefair 2019 Special Show "Plastics shape the Future" by PlasticsEurope.